Take even a brief glance at the seriously stylish, eclectic collection of properties here on Cabins and Castles, and it will be obvious that you don't need to head for the city for a dose of interiors chic!
We asked two of our property owners more about what inspires them and their interiors style, what they love about living and working out here in Sussex, Surrey & Kent, and to share with us their little black book of interiors destinations in and around the area….
Meet Amy Maynard & Karin Dunbar; Amy is a stylist, interior designer and lifestyle journalist, and owner of The Outbuilding Appledore in Kent, a building she painstakingly designed and renovated, in the grounds of her own home. Karin is originally a graphic designer who turned shopkeeper and property owner when she discovered an unloved, Grade II listed shop and flat in her hometown – now transformed into shopping destination Stuff & Co, and The Loft, Midhurst.
Amy Maynard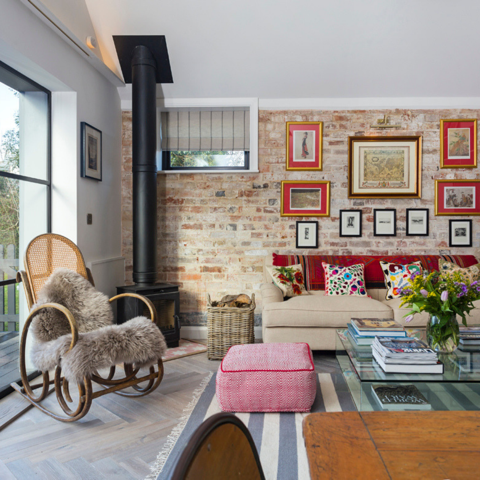 (The Outbuilding Appledore)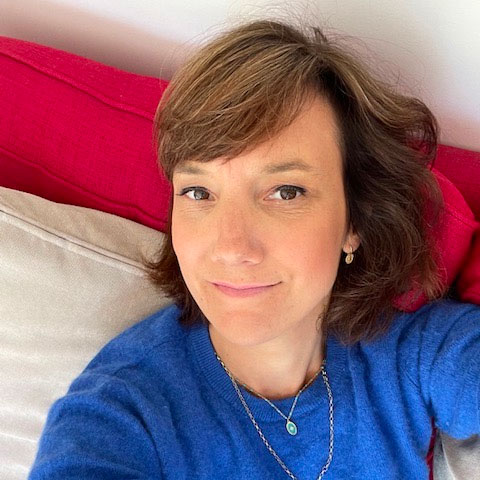 Tell us a little about your own personal interiors style
When it comes to my own home, I try not to overthink things too much and if I like something, I go for it. The result is a mish mash of lots of colours and styles but I think it somehow works!
Where did your inspiration come from, when you were renovating and styling The Outbuilding, Appledore?
I spent hours scouring the internet – Pinterest, Houzz, Instagram etc. I also like to try and break the mould a little, so pulled in ideas I had seen elsewhere but also gave the property my own stamp. 
What do you love about living in Kent?
I love my bucolic surroundings and yet being not too far from London if I fancy the bright lights. We have everything down in this little corner of England – from great pubs to wonderful independent shops and from golden beaches to rolling countryside. 
What are your own favourite stylish Sussex destinations?
The Fig is a brilliant little restaurant with rooms serving delicious food and cocktails from a stylish venue, right in the middle of Rye. Heist in St. Leonards is a food hall brimming with fresh and exciting offerings.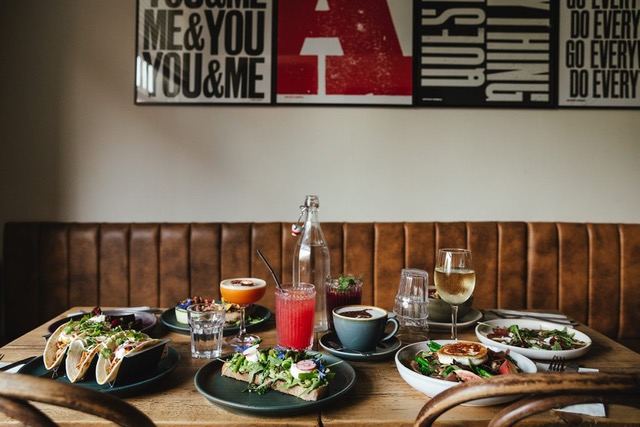 (Photo courtesy of www.thefigrye.com)
Favourite Sussex shopping destinations?
Rye is fit to burst with antique emporiums, boutiques and charity shops (I do love a charity shop!)
Your little black book: what are you top five makers, shops, or artisans?
Alice Robson is a local jeweller, based in Ticehurst, and I adore her stuff. I wear a simple gold disc of hers on a chain around my neck and never take it off. 
Tallulah & Rose Vintage at Strand Quay in Rye is my go-to destination for vintage clothes. I recently bought a stunning restored kimono from there and it goes with everything!
The Rye Emporium is crammed full of affordable antique pieces and I often source for clients there.
My Sweet Old Etcetera is a little jewellery shop on Rye High Street which has some lovely second-hand pieces and also fabulous antique replicas.
Melissa White is a designer and painter of decorative interiors based in Hastings, working with the likes of Kit Kemp and Andrew Martin. I recently commissioned her to paint a piece of fabric for my ottoman and was absolutely thrilled with her work.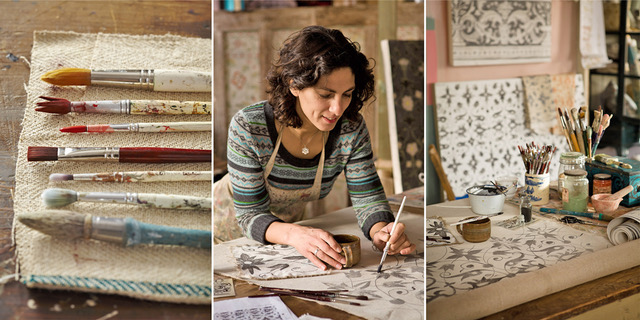 (Photo courtesy of www.melissawhite.co.uk)
Karin Dunbar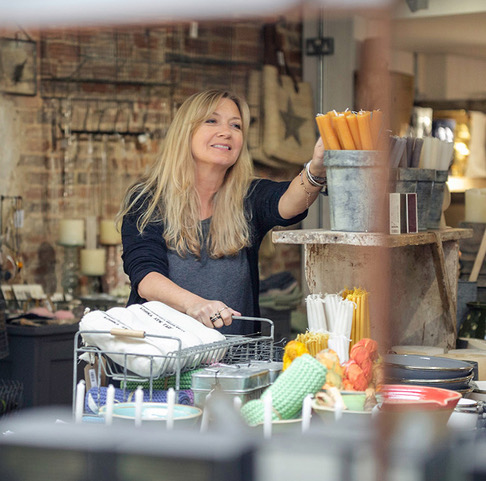 (Karin at the shop she founded in Midhurst, Stuff & Co. Photo Christopher Ison. @crsison_photo)
Tell us a little about your own personal interiors style
Being a Gemini I have different moods – I like white minimalism but also vintage, dark and moody. Currently I am still loving the industrial look – showing function as well as form. I think the building you're in needs to be respected and used to its full potential. In my own home it's still white, grey, and lots of corten steel in the garden. I don't think my style is particularly feminine – there are no florals or frills.
Where did your inspiration come from, when you were renovating and styling The Loft, Midhurst?
The Loft has such lovely bones – once uncovered. They had been hidden behind years of plasterboard and technically that was listed (shhh) but once the ceilings and walls 'accidentally' fell down the place was stunning. I wanted to keep that age and history without making it twee and like visiting a museum. It also had to combine the comforts and amenities of a boutique hotel – underfloor heating, comfortable bed, fabulous bath etc. It was a chance to have some fun without having to think about the practicalities of living there full time. I wanted it to feel like you were staying in a magazine spread.
What do you love about living in Sussex?
The countryside is stunning, it's less twee than Surrey but still close enough to London and only an hour from 2 major airports, and also close to the coast.
What are your own favourite stylish Sussex destinations?
Horseguards Inn, Tillington, The Weald & Downland Museum, West Dean Gardens, West Wittering Beach (I like looking into the houses ). Lordington Lavender, A G Hendy Christmas House in Hastings, Architectural Plants, Pulborough.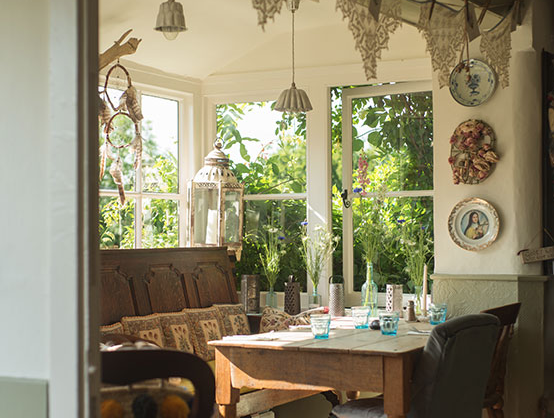 (A sunny table at the Horseguards Inn, Tillington)
Favourite Sussex shopping destinations?
Apart from Midhurst obviously where we have a great selection of independent shops especially in West Street including mine, Stuff & Co! My other favourites are Ardingly Antiques Fair, Lewes, Rye and Hastings. All fabulous places teeming with independent shops and restaurants. Brighton too as I love the light and sea air which makes it feel like you are on holiday abroad.
Your little black book: what are you top five makers, shops, or artisans?
I have to say Stuff & Co, obviously! I opened Stuff & Co in July 2016 in West Street, the heart of historic Midhurst, with the aim of creating a beautiful space for lovers of shopping. It gives me the opportunity to share my discoveries – beautiful design, stuff I love to wear, give and live with. My style blends modern design, vintage, boho, craft and all things Dutch. The stuff of life. @stuffandcouk
The Country Brocante Fairs showcase decorative antiques, interiors and vintage from unusual pieces of furniture to clothing and jewellery. The fairs take place in some fabulous locations in and around Sussex, too.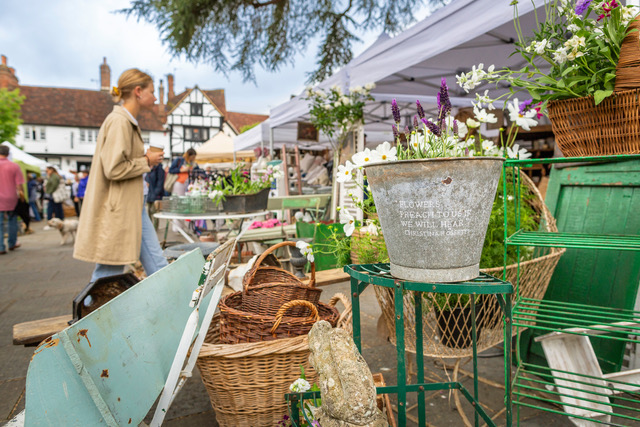 (Country Brocante Fair in the Square, Midhurst. Photo Christopher Ison. @crsison_photo)
Wild Sussex is a pop-up shop in a wood yard, selling logs, eco-friendly firelighters, log candles, and other gorgeous wood-related products such as chopping and serving boards and traditional Sussex trugs. 
Butlers Emporium is a gift and lifestyle store that makes and gathers beautiful things. Housed in a stunning ex-hardware shop in the centre of Hastings. 
A G Hendy in Hastings stocks hardware and homeware that is as useful as it is beautiful. 
Closet & Botts stocks vintage inspired fashion, homeware and gifts – new and handmade, or sourced from flea markets around Europe. Just one of the many reasons to visit Lewes!
We are lucky enough to live within easy reach of the Ardingly Antique Fair – especially as you need to get there early to get your pick of the best furniture and decorative antiques.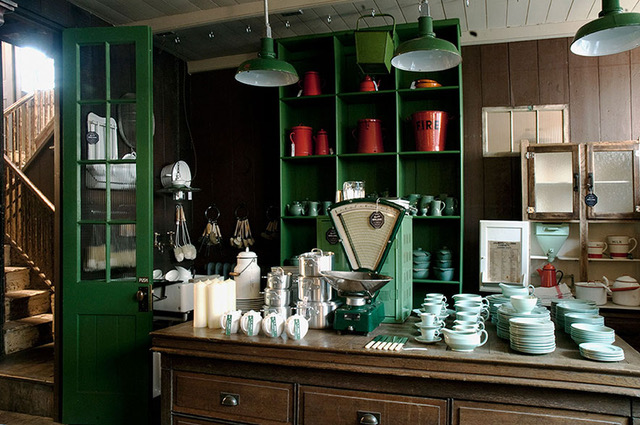 (Photo courtesy of www.aghendy.com)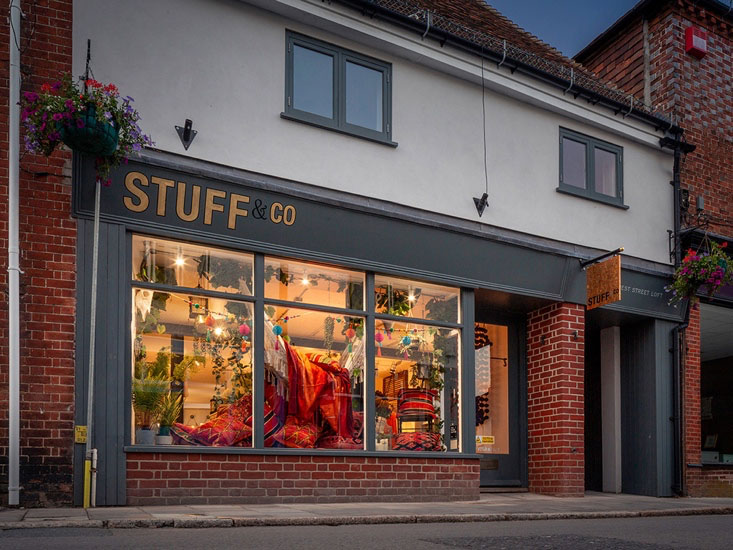 (Photo of Stuff & Co by Christopher Ison @crsison_photo)
Why not plan your own stylish break in Sussex? And gather some serious interiors inspiration while also enjoying the fresh air, beautiful scenery, and space. 
T: 07773 783 863
E: Zoe@cabinsandcastles.co.uk
©  Copyright Cabins and Castles LTD 2018 | Company no: 11139319 | Privacy Policy | Terms and Conditions | Website by Ryn Frank