The Goodwood Estate are running a brand new dog event later this month, dedicated to all things canine, brilliantly named Goodwoof. It takes place in the stunning grounds of 'The Kennels' – the Estate's stylish private members club – and as with all events at Goodwood, will no doubt be both packed with unique entertainment and brimming with style.
Including everything from action sports, field & trial events, 'Barkitectural Masterpieces' (architect designed kennels) and even a studio dedicated to doggy wellness, Goodwoof is sure to be a must for all dog lovers.
We are lucky to be able to offer a whole range of holiday properties in Sussex that are both stylish AND dog-friendly – so whether you are bringing your pooch to Goodwoof, or just planning a trip to the area with your furry friend in tow, here are a few of our favourite retreats and their nearby dog-friendly attractions. All road-tested by the Cabins and Castles extended, four-legged family (who are):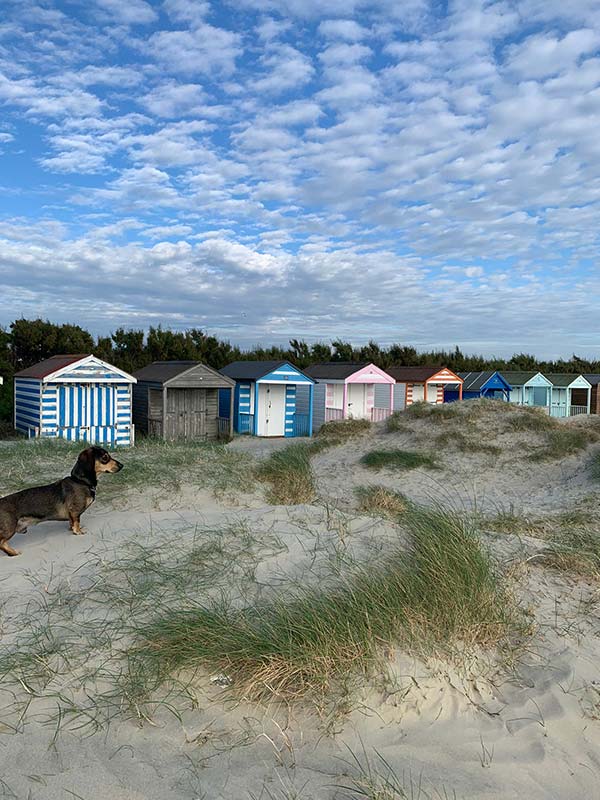 Dog-in-chief at Cabins and Castles, aka Ziggy, surveys the dunes on West Wittering Beach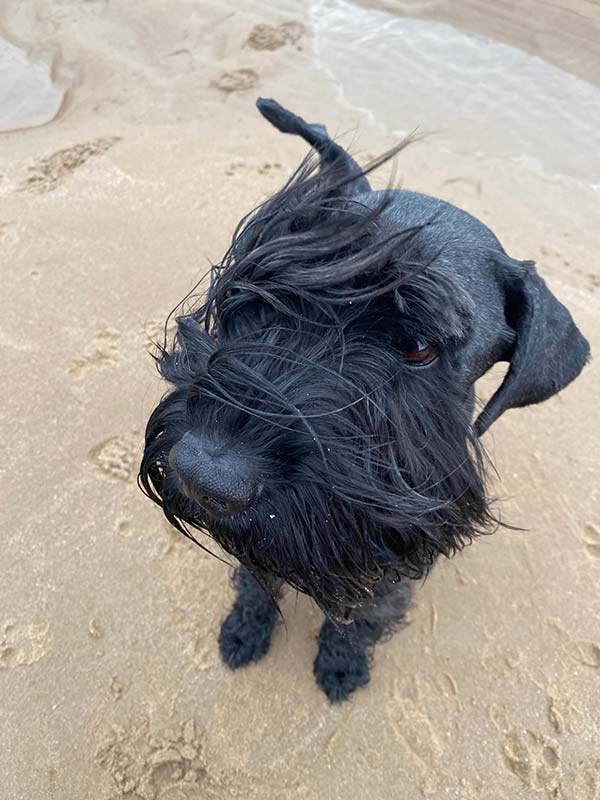 Bear gets that 'wind in my hair' feeling at Bracklesham Bay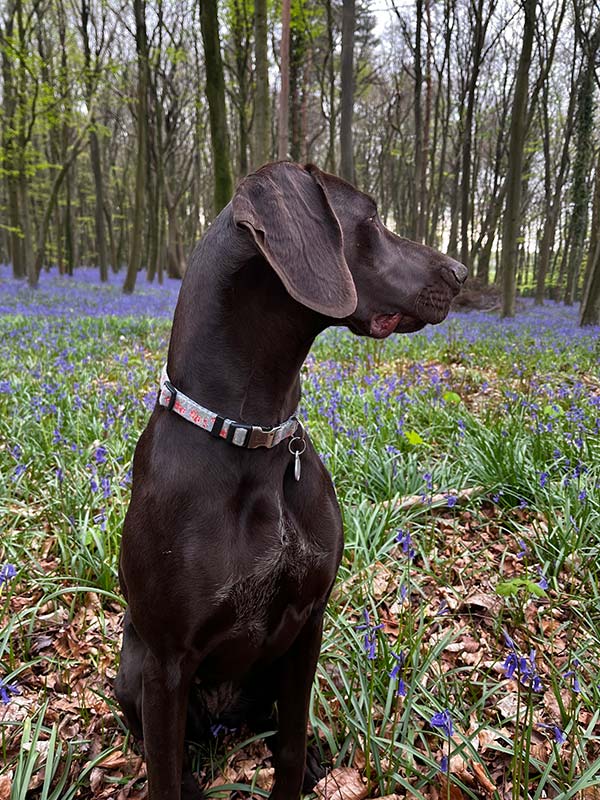 Orla surveys the bluebells in the historic woodlands of West Sussex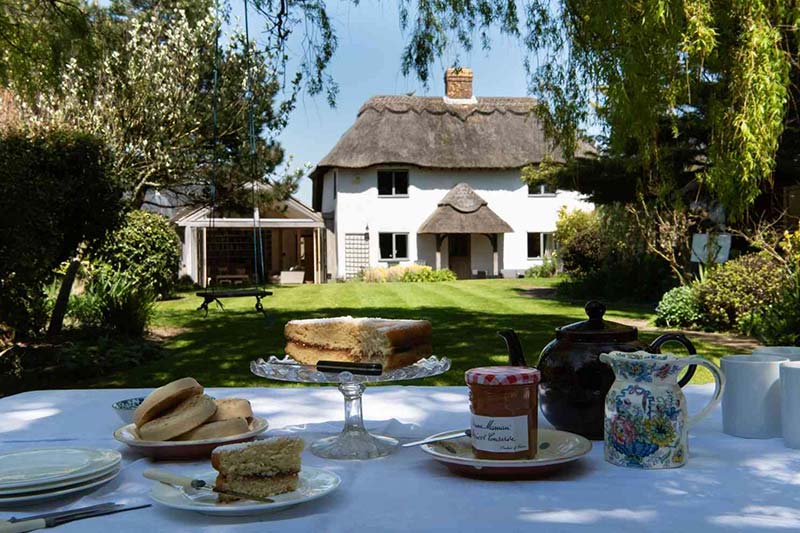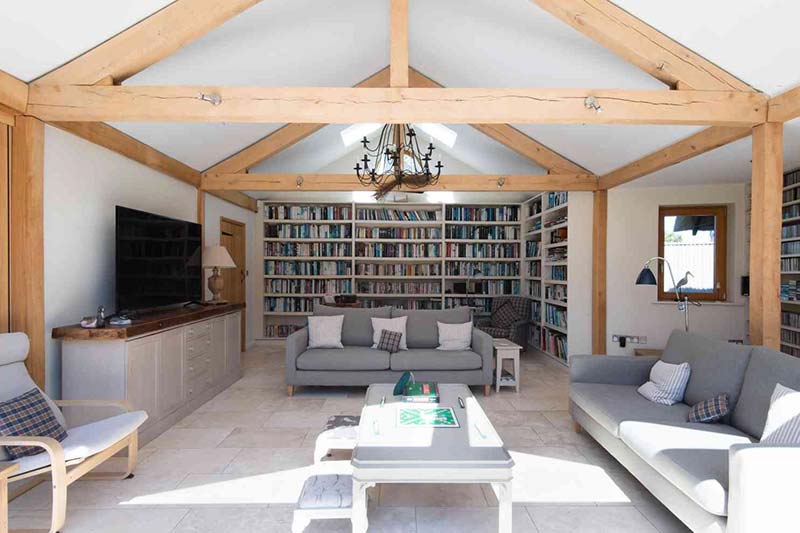 The Thatched Cottage is a beautiful traditional thatched cottage, with a modern (but oh so sympathetic) extension that adds bright, family-friendly living space. While your dog may not fully appreciate the simple, pared back décor and light filled sitting room, they will certainly appreciate the enclosed garden – and most importantly, that The Thatched Cottage is just short scamper to West Wittering Beach. There are some dog restrictions on the main part of the beach between May and September, but East Head, a wonderful National Trust area of beach backed by sand dunes and with views across the Solent, is dog-friendly all year round, and has acres of space for ball games, doggy-paddling, and walks. You'll both soon appreciate why this is one of the most sought-after beaches on the south coast. And being walking distance away means no need to spend any time in a hot car to get here!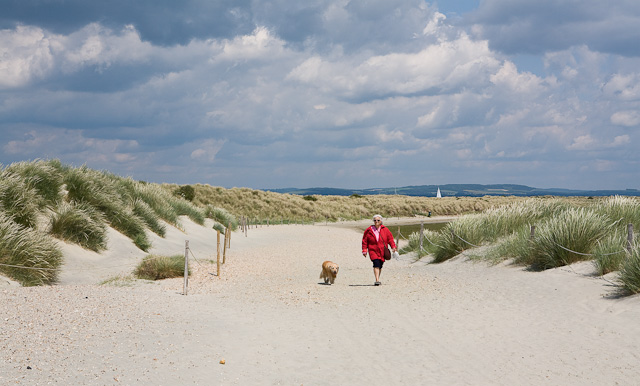 Once you're both windswept and ready for refreshment, the Old House at Home, just slightly inland at Chidham welcomes dogs, who can stretch out in the cool of the quiet garden on warm days, or in front of the open fire on chilly ones! There are dog treats on the bar, and traditional pub food plus a range of local ales for the two-legged guests.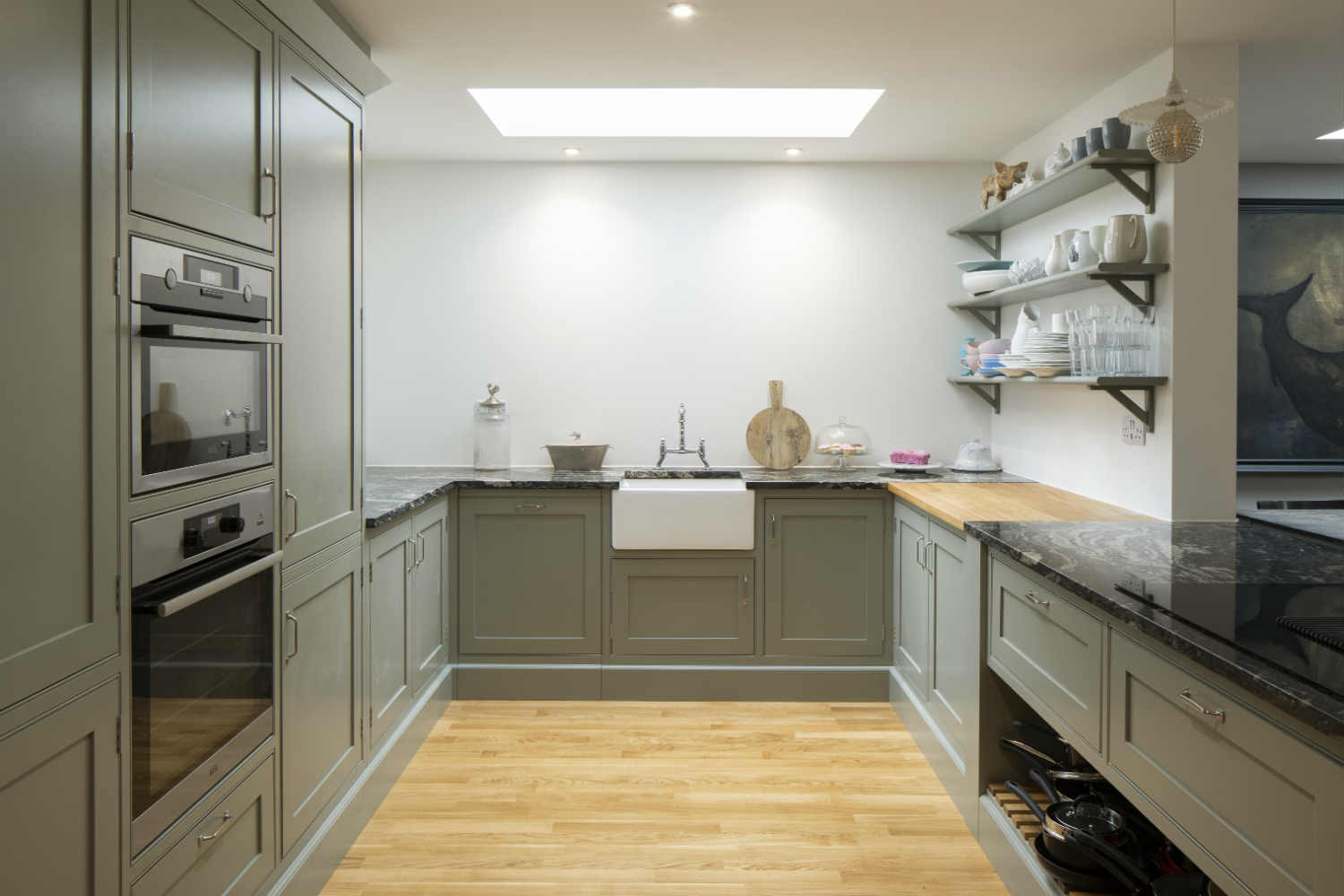 It's a lucky dog (or three!) that finds themselves enjoying a holiday at the Camber Beach House. This uber-stylish, eco-friendly modern home welcomes furry friends and can provide dog beds, help with dog walkers, and has a securely fenced garden for extra piece of mind. Camber Sands offers miles of sandy beach to roam around on (with some restrictions in the key summer months). In fact, this is known as one of the top coastal spots for dog walking in the whole of England. The shallow sea is perfect for dogs who like to get their toes wet, but aren't too confident in the water. And if you or your dog ever tire of such an idyllic spot, then Pett Level Beach, or Broomhill Sands are equally wide open and offer plenty more space to run and play – both just a short drive.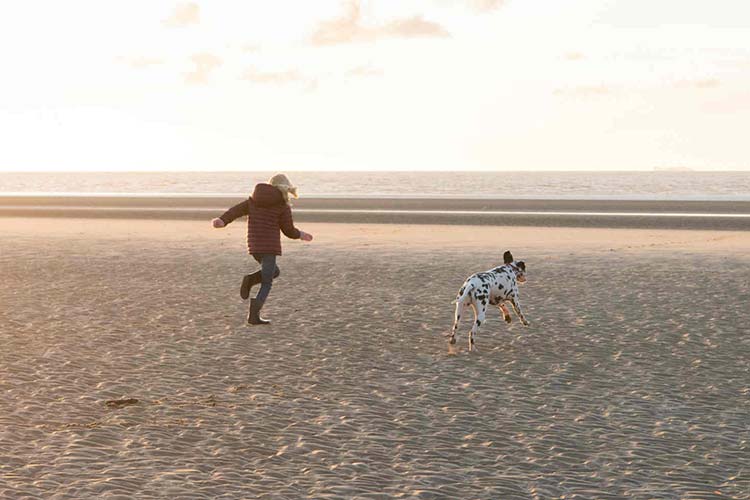 Winter walks on Camber Sands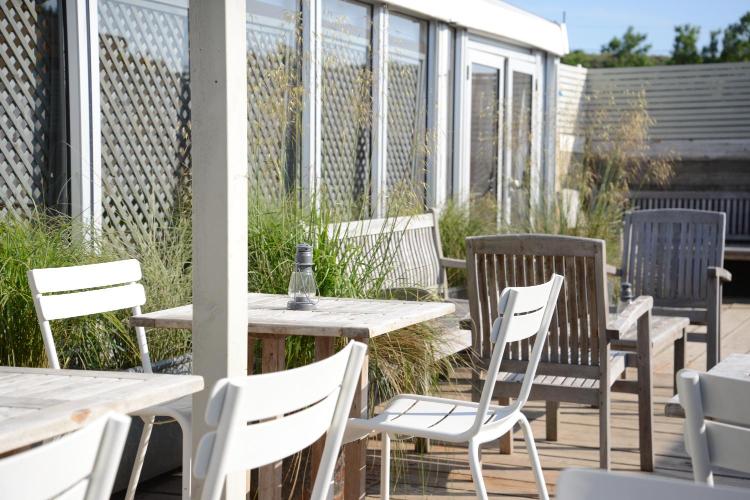 The stylish terrace at The Gallivant (Photo: telegraph.co.uk)
Nearby Rye is a haven for foodies, but dog friends don't need to be left behind to make the most of the gastro-scene. The famous Gallivant has a dog-friendly terrace, and the dog-friendly gastropub, William the Conqueror, can be found at picturesque Rye Harbour. While you're there, why not pick up a few pet essentials at Paws n Claws Rye. You can even spoil him or her with a few gastro treats of their own, with dog friendly doughnuts and cookies….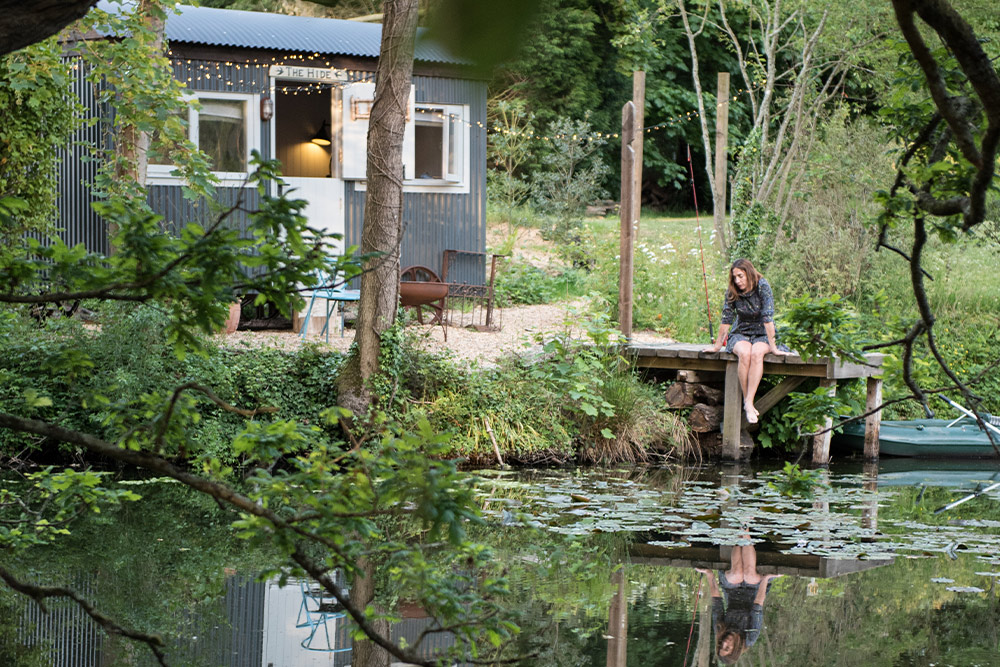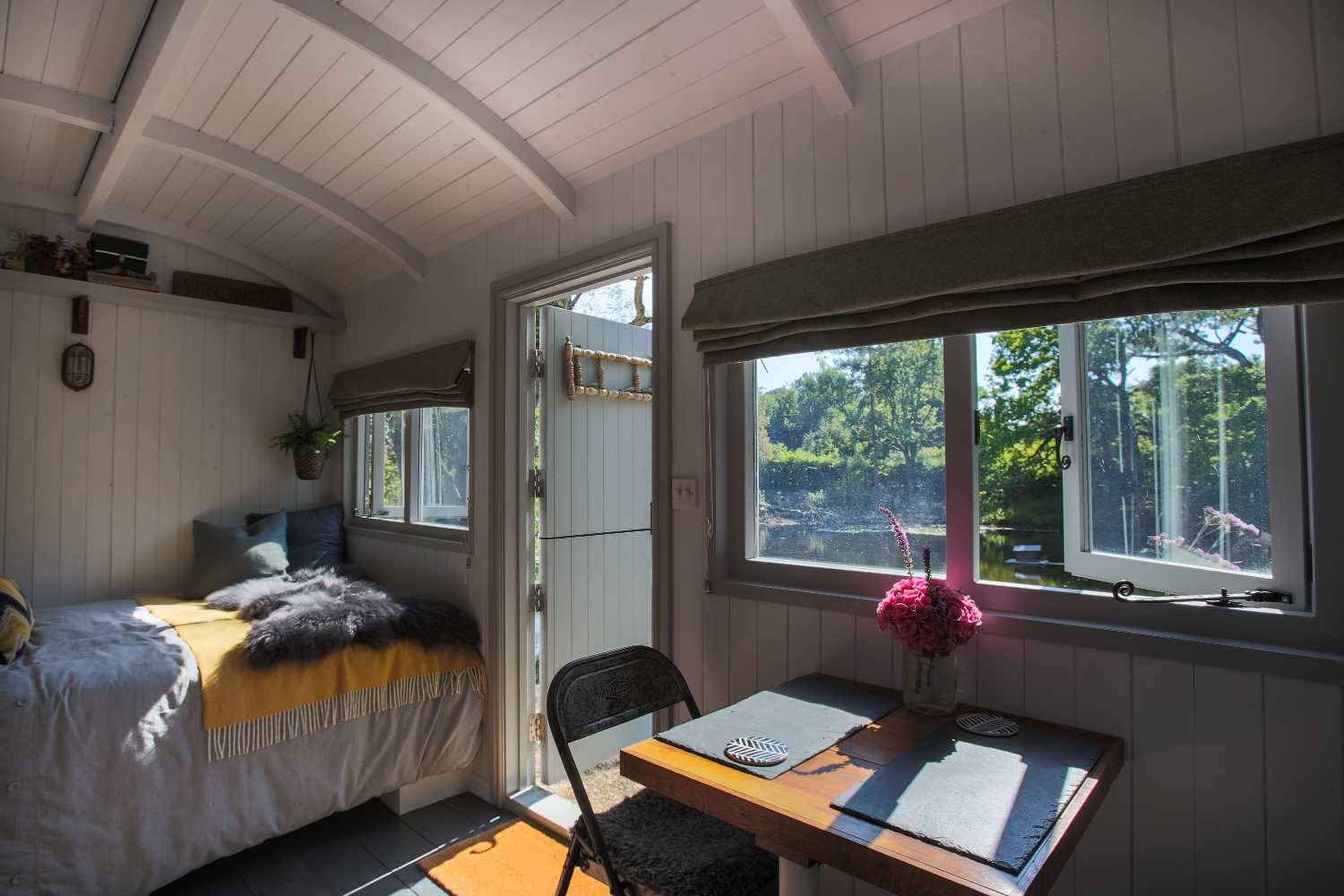 This magical Shepherd's Hut, on the shores of its own lake, is a romantic escape for two people (and pooch makes three….). Well behaved dogs are welcome here, as long as they won't mind the owners' own friendly dogs coming to say hello. Enjoy the peace and quiet and watch the sunset before cosying up inside to sleep (no dogs on the bed though, please – so not quite that cosy!).
There are beautiful walks from the doorstep, that all of you will enjoy. A short amble brings you to local's favourite pub The Bolney Stage, which is dog friendly both inside and out. For a more adventurous hike the South Downs Way is within easy reach – and at over 100km long and taking in countryside ranging from high open hills to woodland, there is plenty to tire even the most active dog out.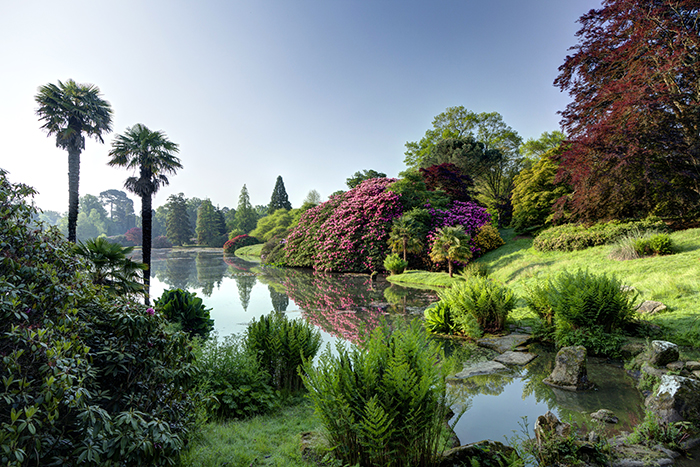 Image of Sheffield Park & Garden from National Trust
(image by John Miller)
Nearby Sheffield Park and Garden (about 25 mins drive) is a National Trust gem that welcomes dogs to the garden (on a lead), in the parkland, shop, and for a rest at the Garden Room café. For a step back in time, or for train enthusiasts, why not take a trip on the Bluebell Railway? This beautifully maintained steam train runs a route 11 miles from Sheffield Park to East Grinstead. Not only are dogs more than welcome on the train, you can even get them their very own ticket!
The Beach House, Hayling Island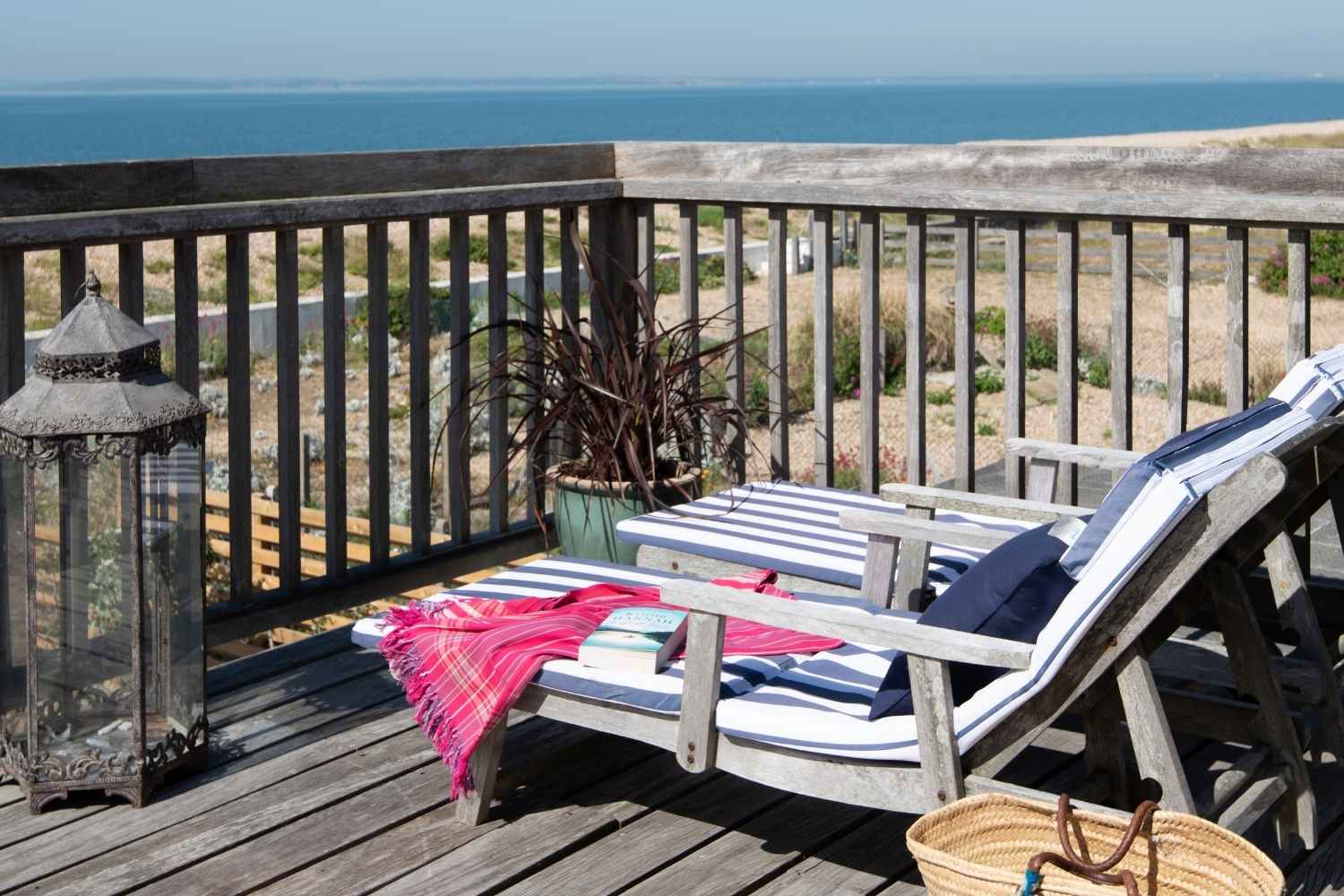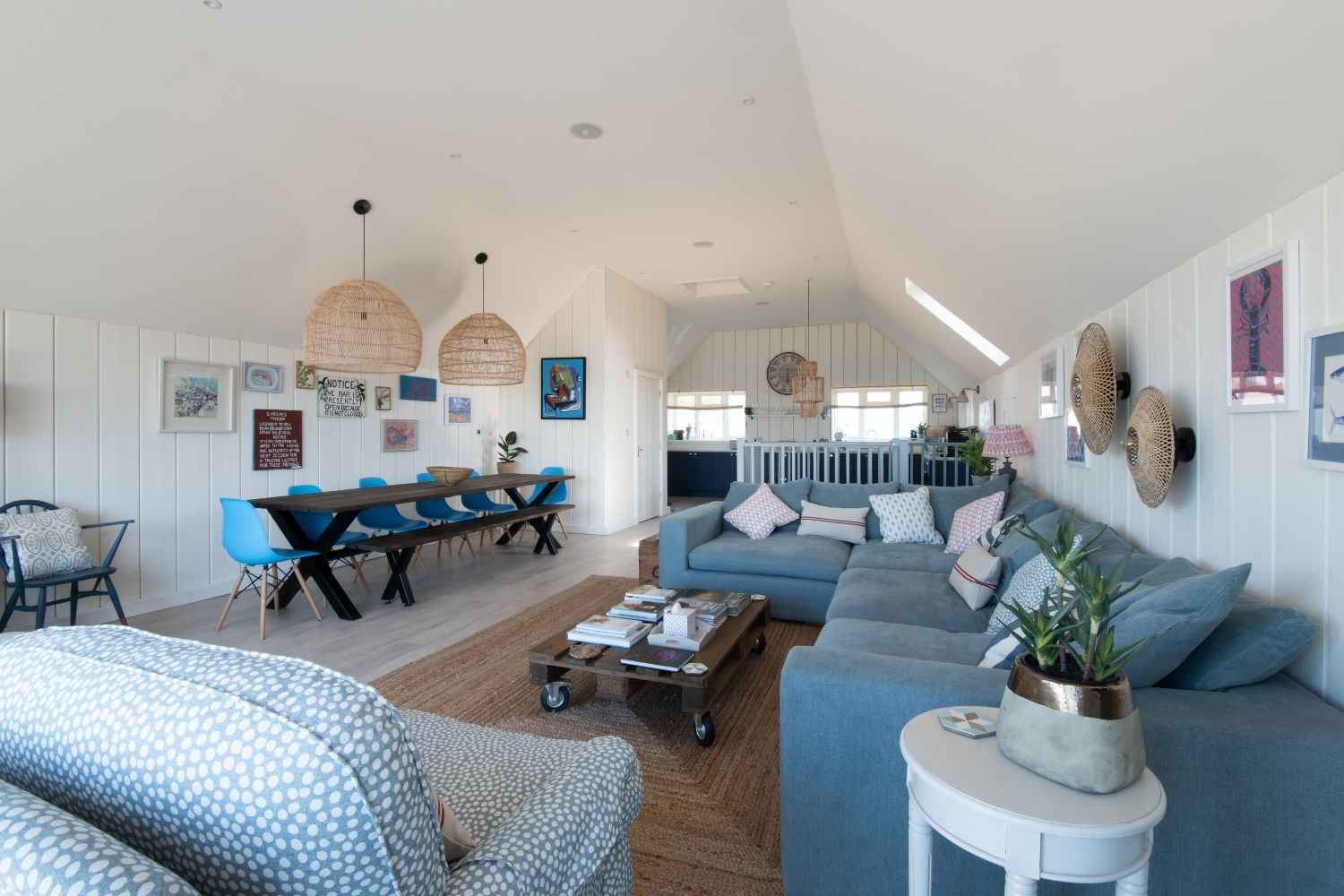 Hayling Island is a tiny piece of a dog paradise, with miles of open space, fresh air and views. While there are some restrictions on parts of the beaches here during the peak summer months, the area of beach directly outside The Beach House is dog-friendly all year round. So this is a wonderful spot to soak up the sea views, with lots of space for friends, family and Fido to getaway together. The whole family will enjoy the relaxed coastal vibe, open plan spaces, and outdoor terraces looking over the water.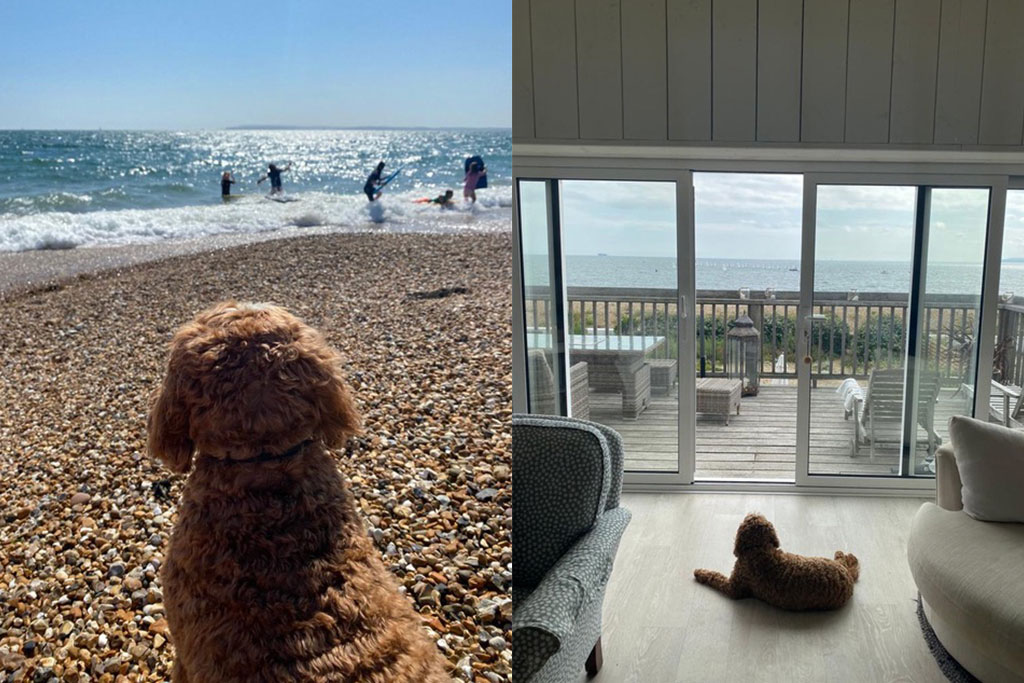 (The dog-friendly Beach House on Hayling Island)

The Hayling Billy Trail is a coastal path that follows the old railway line between Hayling Island inland to Havant, and offers plenty of space for running off some energy – just watch out for horse riders and cyclists. After all that fresh air and exercise the Inn on the Beach is a great place for seafood, pub classics, and enjoying the sunset from the spacious terrace. Dogs welcome.
There are plenty more delicious homes on our website that are dog-friendly too, so choose your favourite, grab your lead and make a break for Sussex – there's no need to leave your best friend at home.
T: 07773 783 863
E: Zoe@cabinsandcastles.co.uk
©  Copyright Cabins and Castles LTD 2018 | Company no: 11139319 | Privacy Policy | Terms and Conditions | Website by Ryn Frank