If you're yearning to spend some time catching up with friends and family, or are looking for a place to gather for a special event, then a stylish holiday home in Sussex might just offer the perfect solution.
There might be an upcoming occasion to celebrate – a big birthday, engagement, or new baby – or it might be that you're just looking for a family reunion or time to reconnect with groups of old friends. Whatever the reason, a larger holiday home can provide the perfect place for a group to gather. Lazy breakfasts with time to chat, lazing about in the garden, and evenings spent cooking together or playing games all make for a memorable, relaxed time away. A large house, shared with a group can prove to be a very cost effective holiday destination, too.
Here's our guide to what to look out for, when choosing a property for your next group getaway.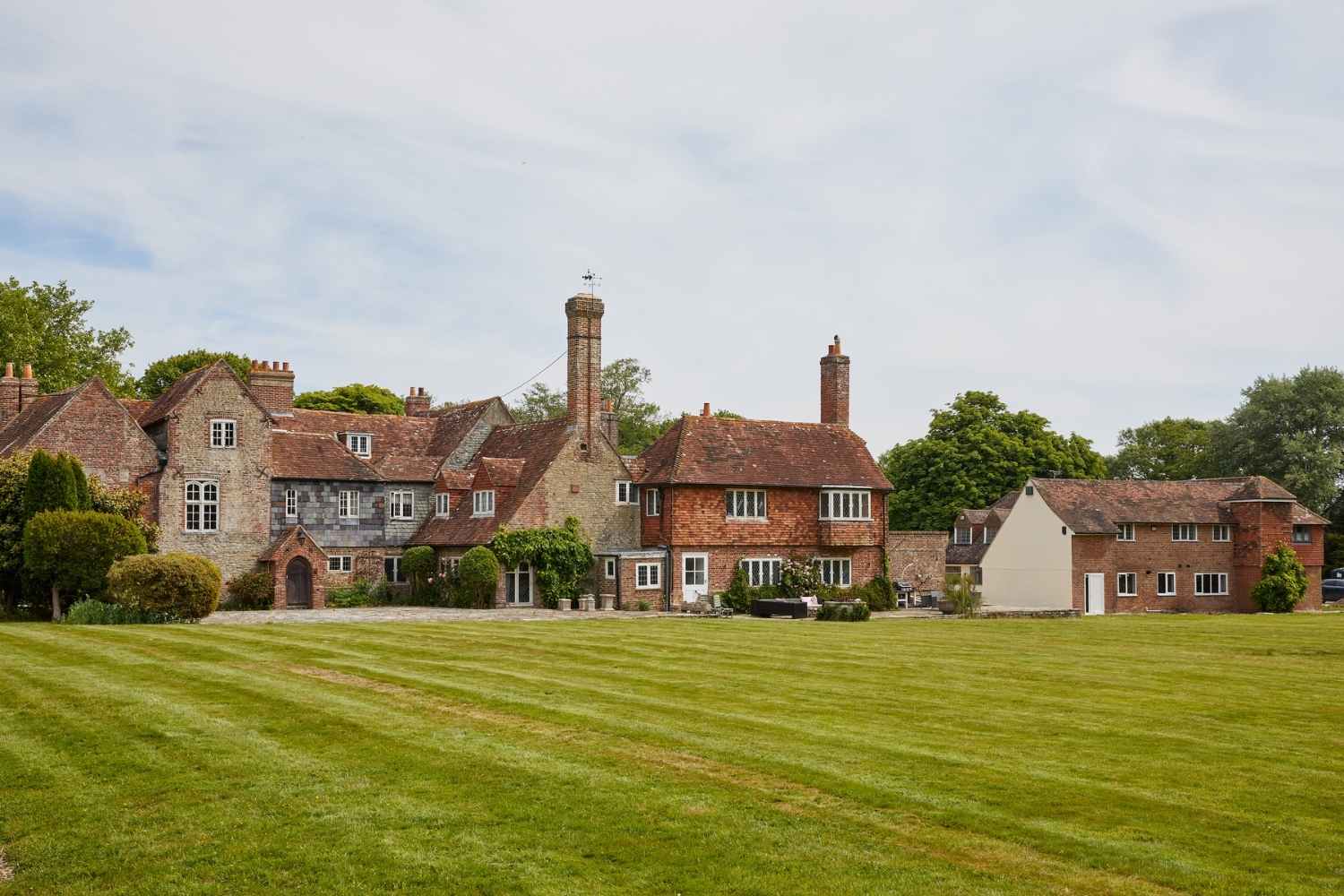 The Coach House at Norton Priory
Obviously your holiday home needs to offer enough places for everyone to sleep! But that isn't the only space requirement to consider when planning your time away.
If you're getting together for a celebration, then choosing a group holiday home with enough space for all of you to eat, drink and be merry might well be top of your list. So look for entertaining spaces that can comfortably accommodate your whole group, including simple things like whether there are enough dining chairs for all of you to eat together, and enough sofas to relax on when the conversation continues well into the evening.
Conversely, if you're heading off with a group of extended family, then the number, as well as size of the communal spaces may be important. As loving as most families are, we all need to escape on occasion! Particularly if there are multiple generations involved – children may need a space to play or watch TV, while the adults get some much-needed quiet time of their own. This may not be such a concern for a night or two, but for longer stays, having multiple living spaces might be essential for everyone to enjoy a happy and relaxing time.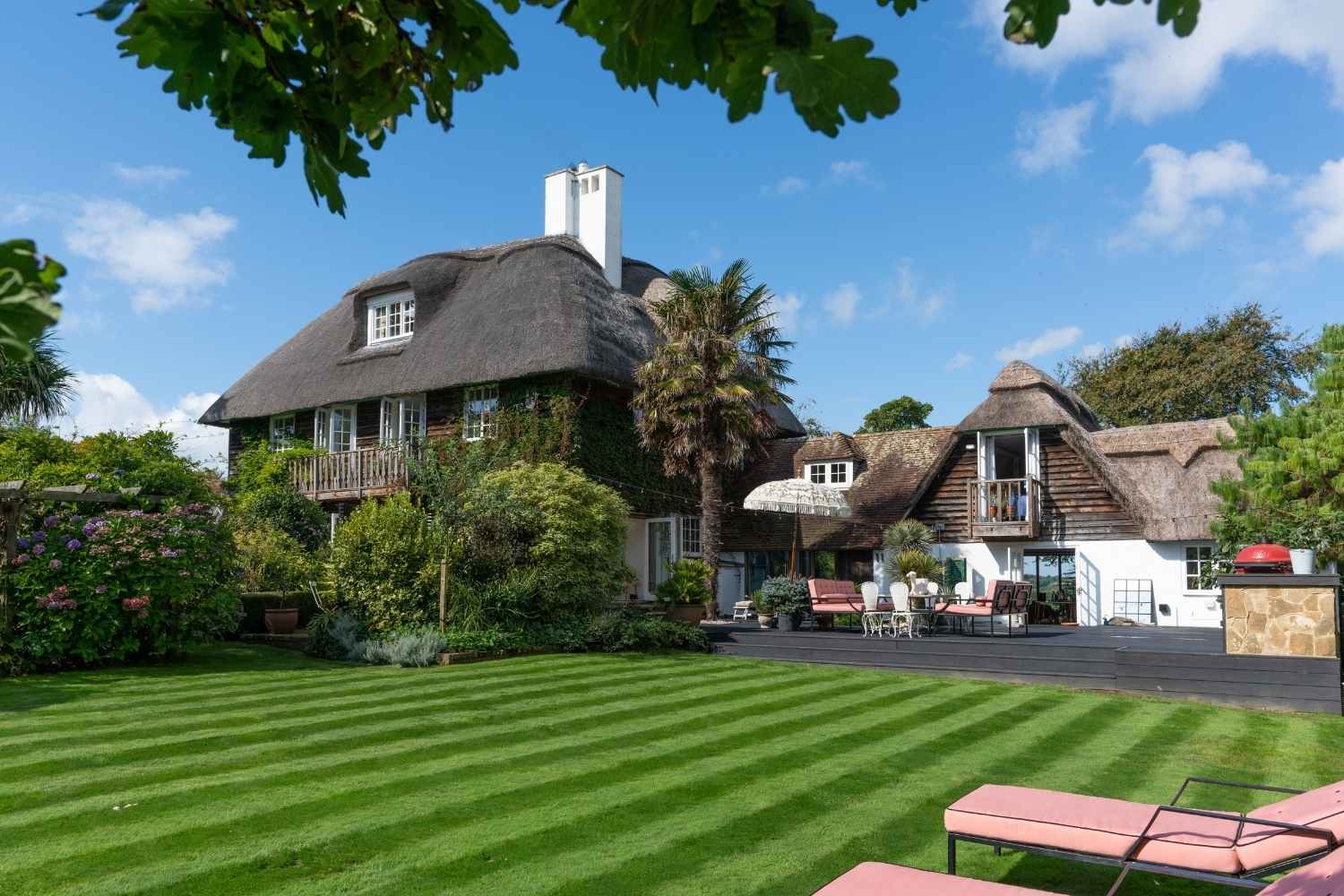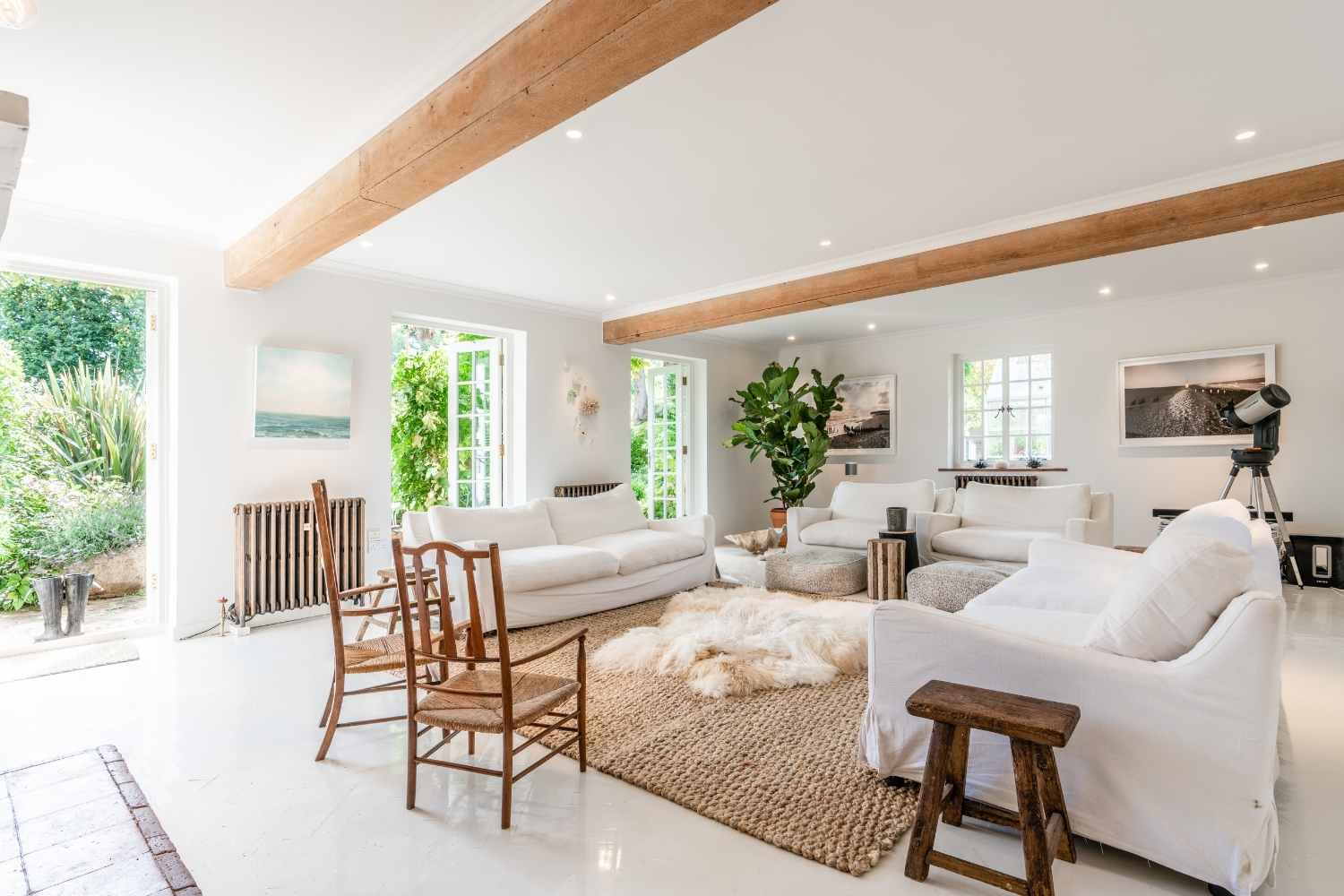 Cliff End View's perfect mix of large, sociable spaces and smaller more intimate ones make this an ideal getaway for a calm, relaxing break with friends, or for a family group.
– Equipped to entertain –
What plans do you have for our group getaway? Is it an 'out and about' break with most meals eaten away from home, or hunker-down, cook a roast together and crack open the red wine with lots of time to chat? Are you hoping to find entertainment during the evenings, and if so, what kinds of things would everyone enjoy?
Cooking away from home, particularly for large numbers, requires a little more thought and planning than it might in your own kitchen – but fortunately most larger holiday properties have thought of this, and offer brilliantly-equipped cooking and dining spaces. If you are planning to cook up a storm for your group celebration, then having more than one oven (or a range), and a large fridge freezer should be high up on your list. And do check with the owner if there is a particular piece of kitchen equipment that is vital to your recipe! So you can at least bring your own, if needs be. In the summer a BBQ might be all you need for a meal to remember, and most larger houses provide this.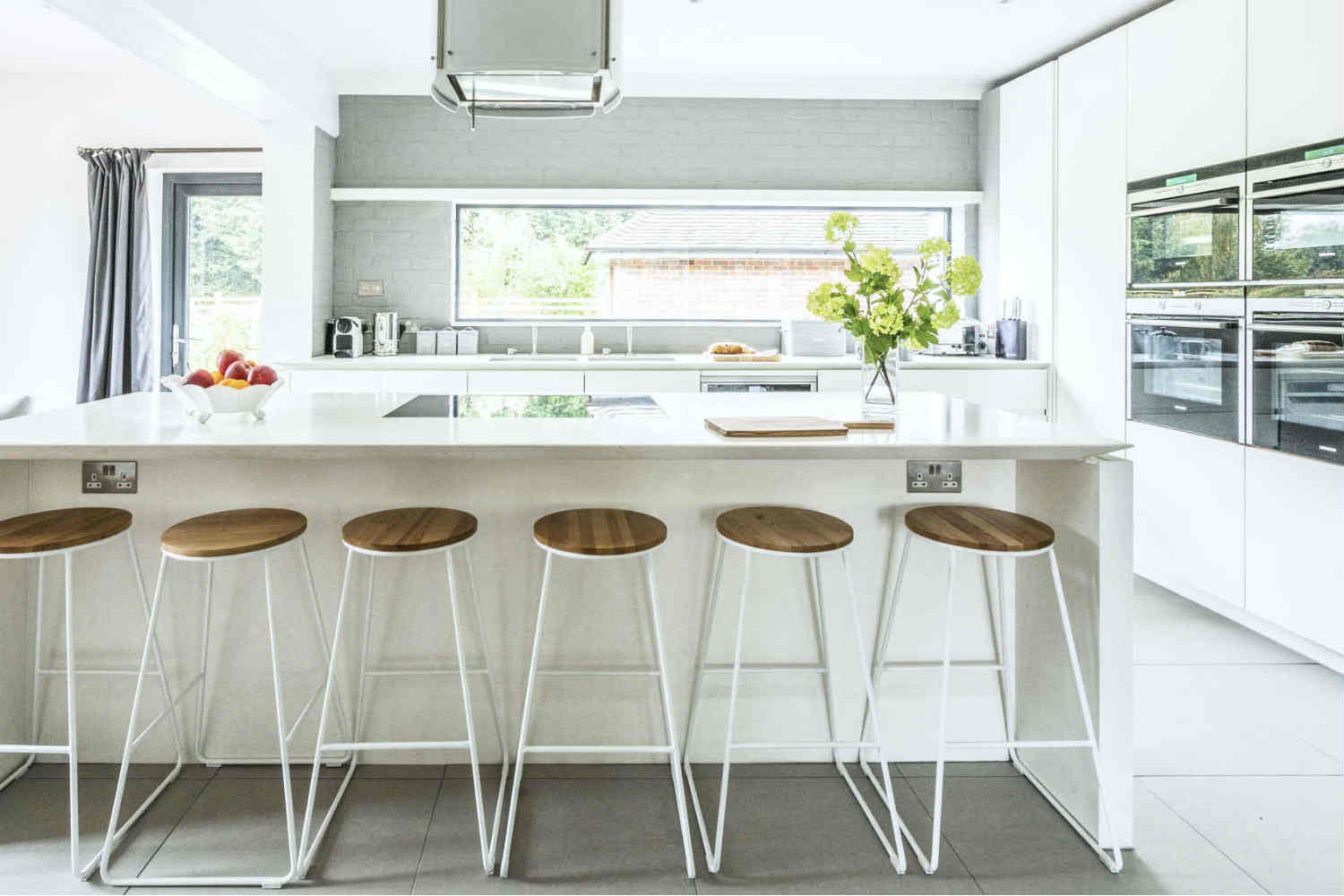 The huge, bright kitchen at The Summer House is brilliantly equipped, with a bank of ovens so you can cater for large numbers in comfort – and plenty of space for your guests to perch, and chat to the chef!

Group nights away can be made all the more memorable by a few little extras. A foosball or ping pong table can turn any evening at home into games night. A cocktail bar and glitter ball make dressing up for dinner a pre-requisite. And a decent sound system might even lead to a kitchen disco….! If there are children in your party then a play area or even just a swing will make it memorable for them, a games console or den even more so for tweens and teens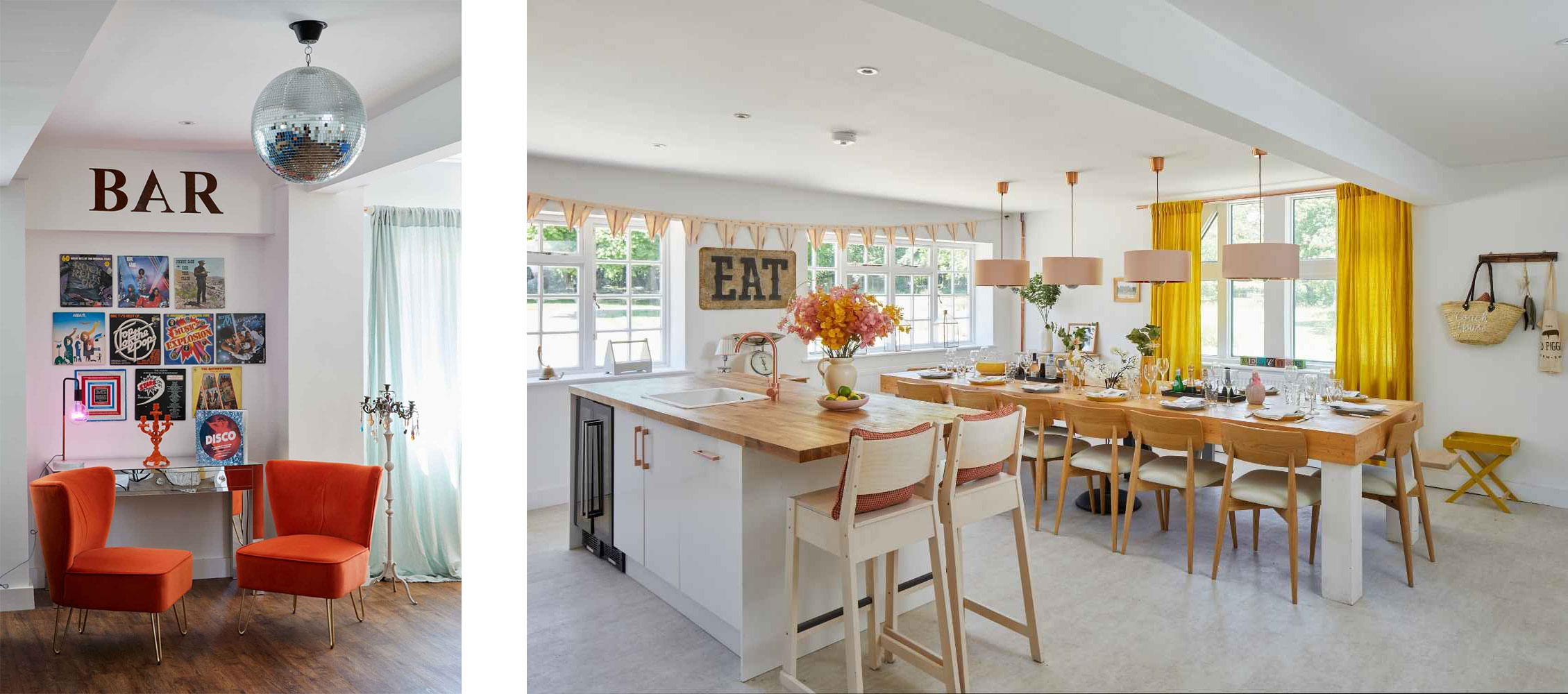 Kick off your group celebration in style, with your own private bar area & disco ball, at the Coach House at Norton Priory. Then make more happy memories with supper around the huge kitchen table.
– Making magical memories –
Finding a unique, memorable space may be high on your list of requirements, particularly if you are celebrating a special occasion. Finding a home that is out of the ordinary, either in its age, setting or location can elevate your break and make it even more unforgettable.
Historic properties are certain to have quirks to them that few of us will have in our own homes – so if you have always wanted your own inglenook fireplace, oak beams, or a bedroom in the eaves, then this might be the perfect opportunity to live out your period interior fantasies! Older homes often feel warm and enveloping, which is great when you just want to hunker down with friends, but larger ones are also often set in generous gardens and grounds too, which can make the whole experience feel wonderfully private and other-worldly.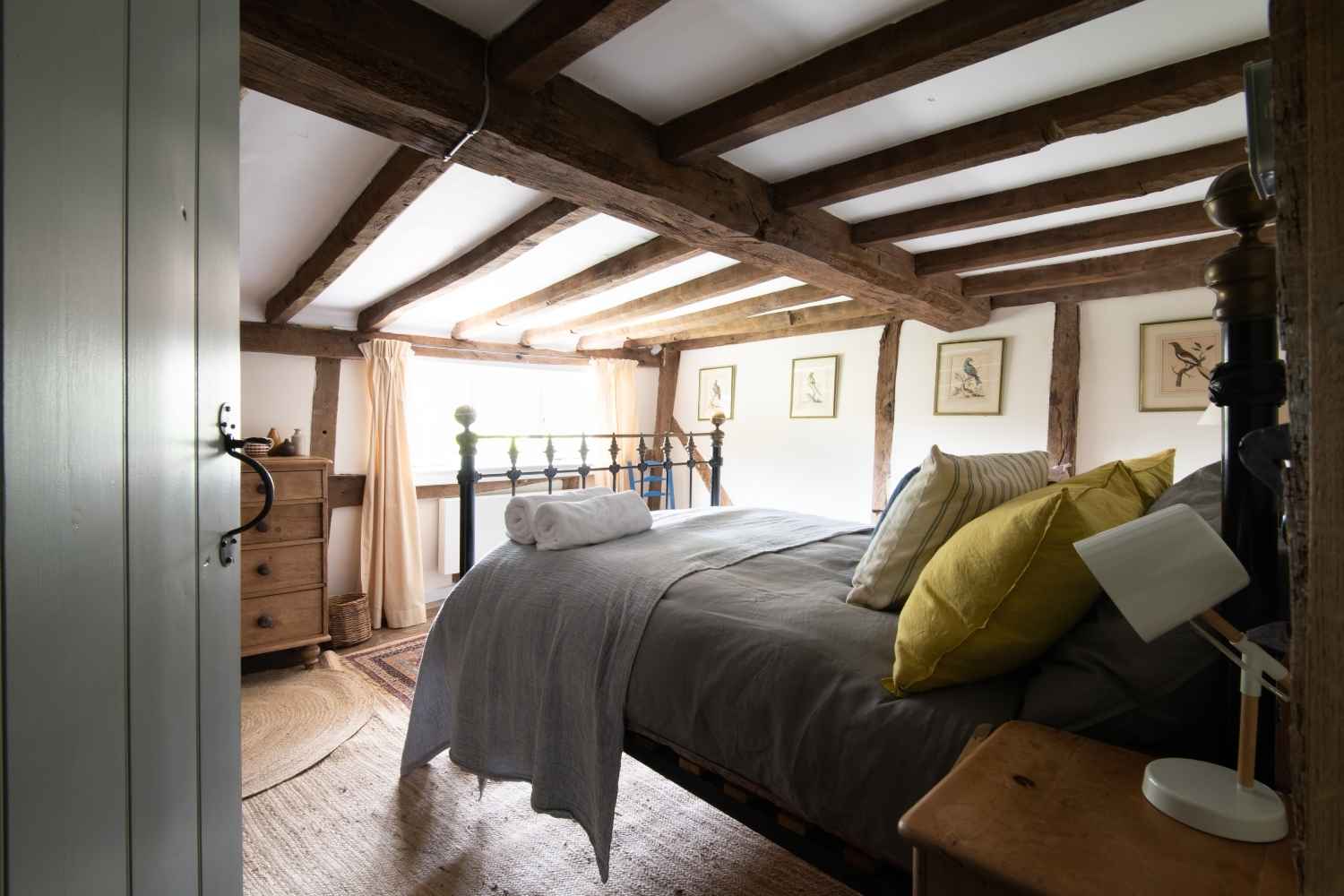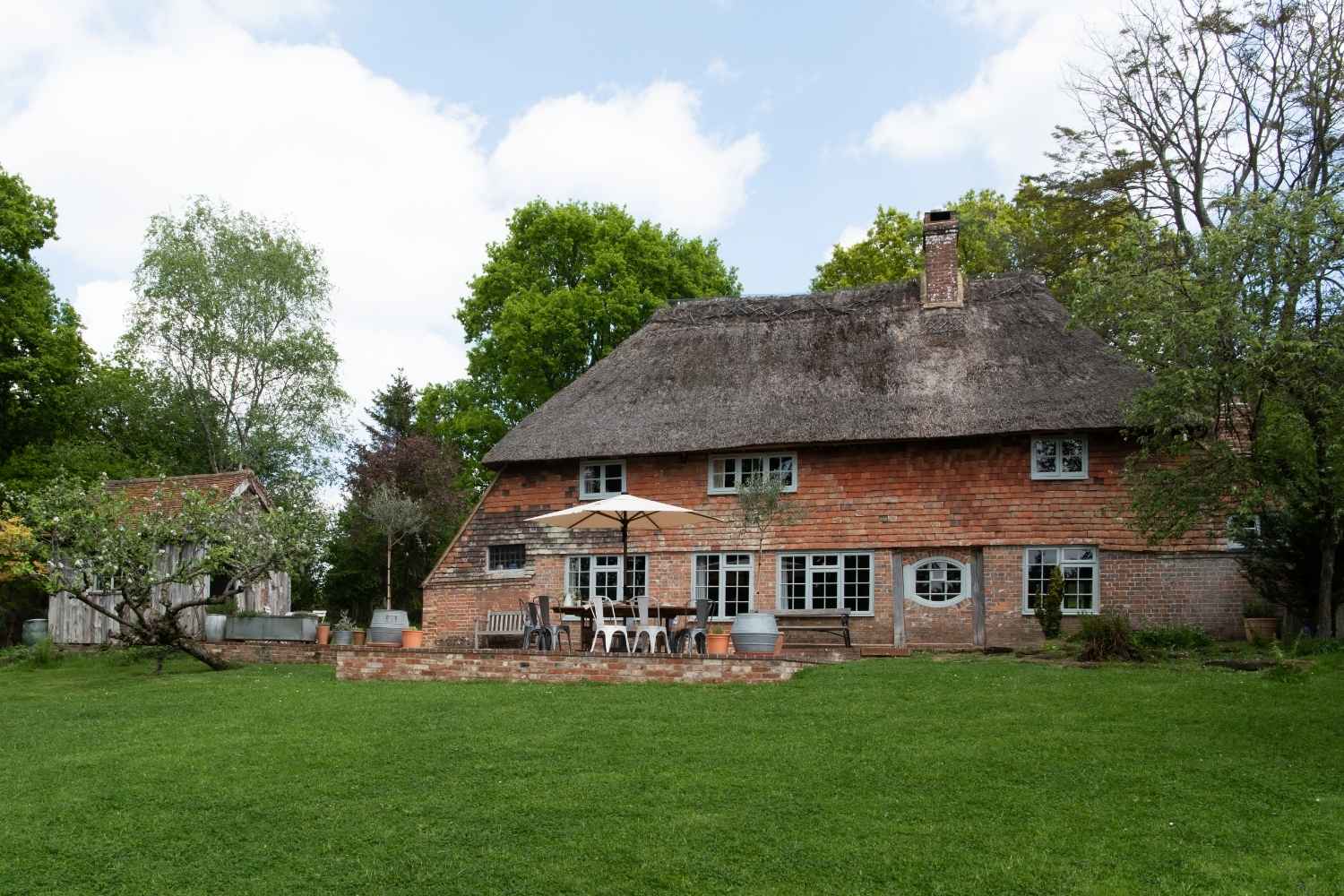 The Forest House is surrounded by woods, and looks like it stepped straight out of a fairytale. There is even a white stag that sometimes visits the secluded garden! This 16th Century house has been brought back to life with great style by the current owners, making the most of each and every period feature. Sleeps groups up to 10.
Getting your group out and about…
Whatever the excuse for holidaying together as a group, chances are you will be looking for some activities to keep everyone amused, around as well as inside the house. And here (admittedly we may be biased!), Sussex is the perfect destination. There is such a range of things to do for all ages and interests.
Beachside or coastal properties offer ready-made fun, whatever the time of year. In winter your group can take long blustery walks, and in summer take time to enjoy the sun, sea and surf! The sunsets along the south coast are marvellous, and enjoying a sundowner while watching the sun set over the sea can make a holiday memorable all by itself.
There are plenty of watersports available all along the Sussex coast – why not book a group paddle-boarding or kitesurfing lesson at Wittering or Camber Sands? You may not end up experts, but there will certainly be plenty of giggles, and happy, salty, memories made.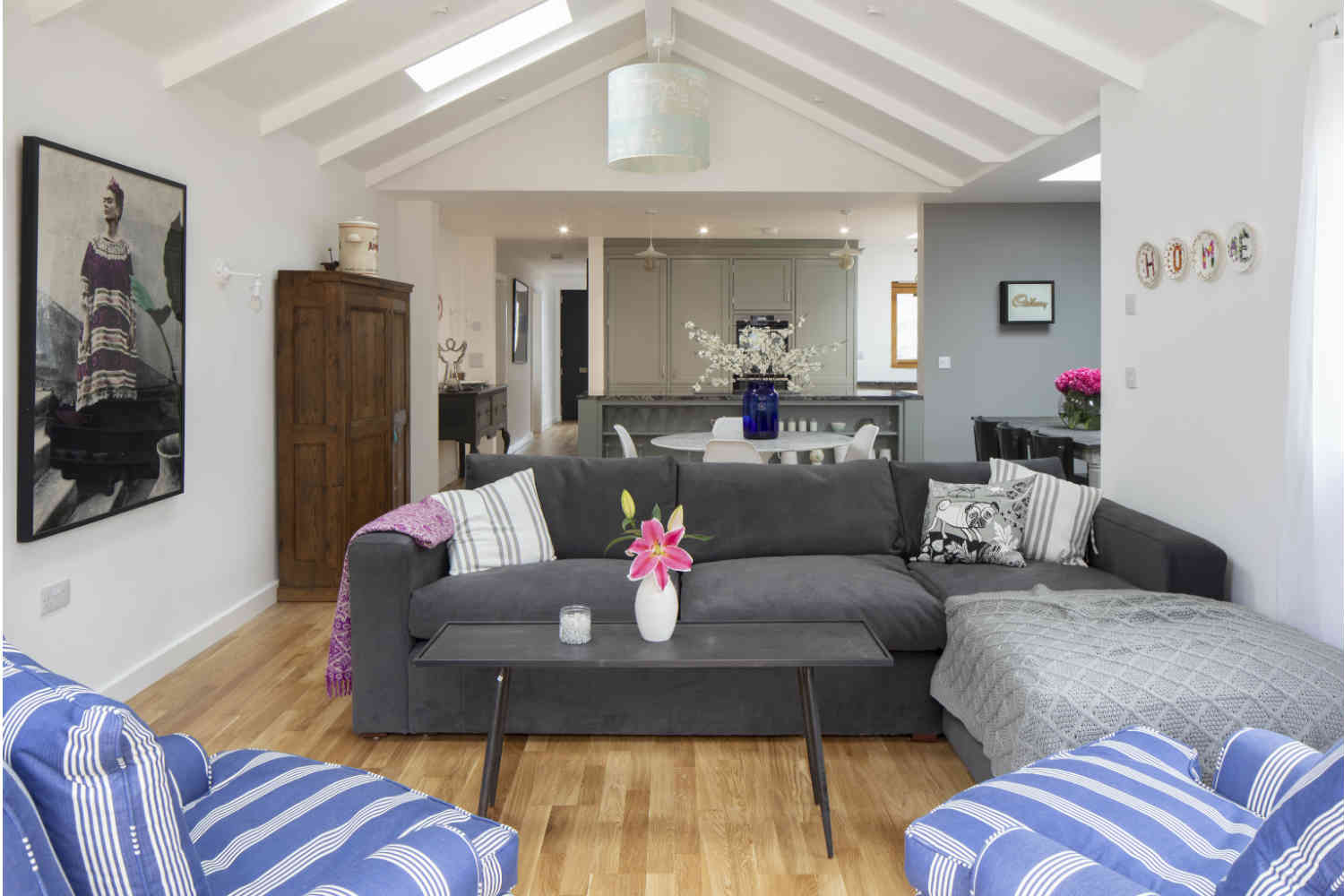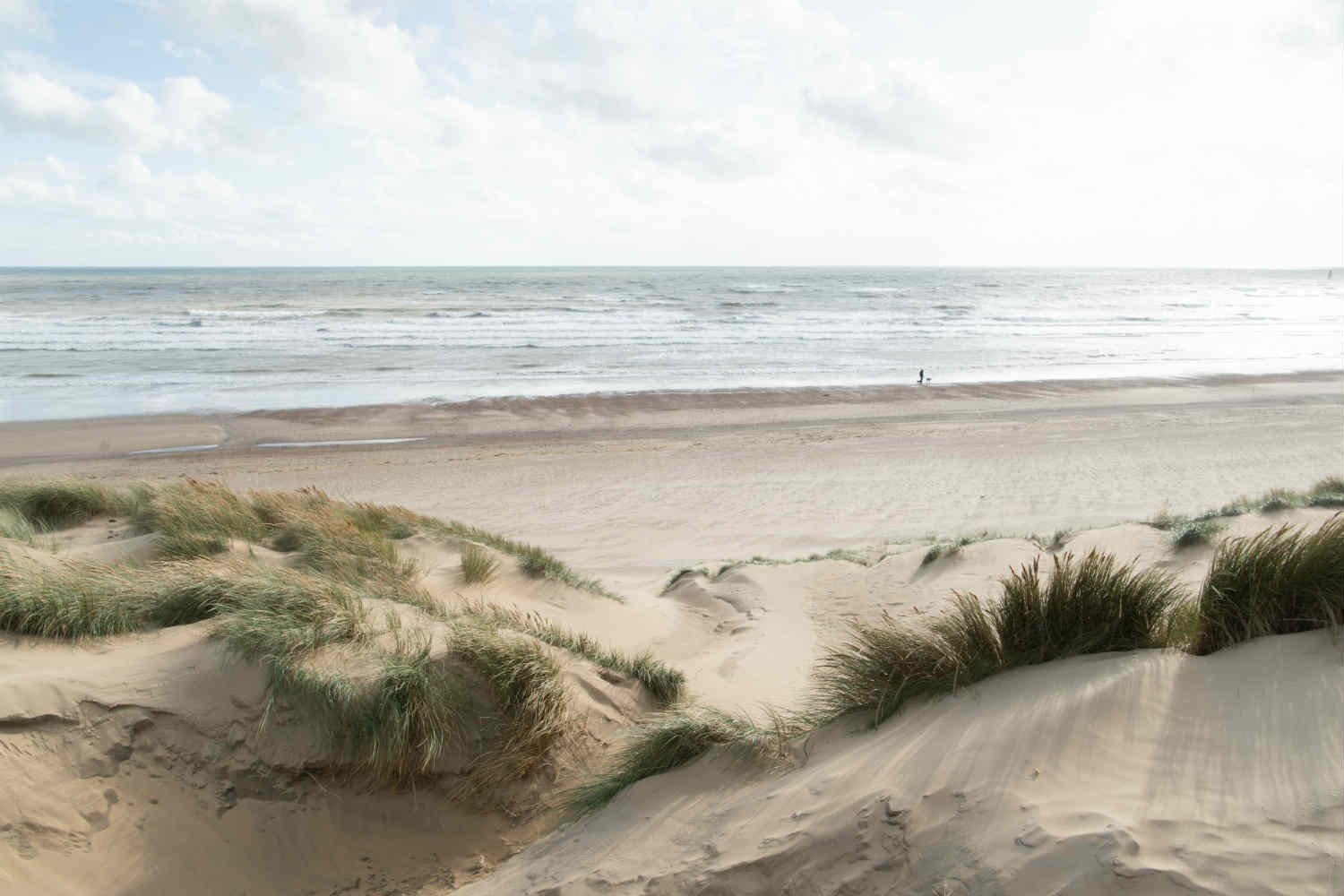 The Camber Beach House sleeps 10 in five bedrooms, each with its own ensuite bath or shower room, and is just moments from the wide, white dunes of Camber Sands beach. It also offers a ground floor, accessible bedroom which is great for multi-generational groups.
If your group includes children, then finding activities that keep them occupied, as well as burning off some energy, will help to make for a happy time. Child friendly attractions include Arundel Castle, whose grounds host battle recreations and jousting over the summer months, Aquariums in both Hastings and Brighton, Drusilla's Park with zoo and numerous adventure playgrounds, and of course plenty of bucket and spade fun at beaches all along the coast.
If you are flexible on the dates for your get-together, then timing your trip to coincide with one of Goodwood's unique events, held throughout the season, is highly recommended. Dress up in your finest and enjoy the action, as well as a little flutter on the horses, at Britain's most picturesque racecourse during Glorious Goodwood. Or enjoy dressing up of a different kind (an outfit from the 50's, 60's or 70's) at Revival, a festival of motor racing and featuring beautiful classic cars, live music and a fun fair.
Whatever the occasion, or size of group – choosing a unique, stylish hand-picked property is the best place to start. Browse our website for inspiration, and if there's something special you are looking for, don't hesitate to get in touch.
T: 07773 783 863
E: Zoe@cabinsandcastles.co.uk
©  Copyright Cabins and Castles LTD 2018 | Company no: 11139319 | Privacy Policy | Terms and Conditions | Website by Ryn Frank